Forget England's dramatic draw against the All Blacks or Ireland and France, who cemented their status at the top of the rugby world rankings over the weekend.
Instead, raise a glass of Portuguese or Georgian wine to celebrate two historic results that raise new questions about the future structures of the international game in Europe and beyond.
Even on a microcosm, the importance of Portugal's final penalty in Dubai, which saw them bottom at the next year's Men's World Cup at the expense of the United States, was significant. Such was the manner of Georgia's victory over Wales, a final monumental scramble for the Lelos who clinched a famous 13-12 victory in Cardiff. Put the two together, and global rugby's tectonic plates appear to be shifting.
This makes it a perfect week for representatives from all the major unions to discuss the global calendar and in particular the finer details of the Nations League proposals that have been on the table for months.
A key meeting on the matter will take place on Thursday, with the clock starting to tick if the 'new' tournament – essentially a streamlining of the July and August windows – is to become a reality. The idea is simple enough as the six-nation teams join forces with Australia, Argentina, Fiji, New Zealand, South Africa and Japan for a 12-man event to be staged in years outside of the World Cup and Lions Tour from 2026 . The European teams would play three summer games against three different opponents before meeting the remaining three southern nations at home in the fall. A possible "final" in November between the two pool winners would then follow.
However, the devil is very much in the details. A key suggestion for finding high-level support behind the scenes is not to achieve relegation or promotion from the 12-strong "elite" before 2030. Supposedly the reason is that the tournament needs time to go to bed commercially and also potential promoted teams need time to become really competitive.
This makes no sense if you are from Georgia. If they can win in Wales after also beating Italy 28-19 in Tbilisi in July, are people really saying they're not good enough? Or, get to it, not worthy of induction into the Six Nations itself? As their coach Levan Maisashvili told the Daily Mail when asked if his side were knocking on the Six Nations door: "I think we've smashed the door down now."
Given that Maisashvili was in a coma and near death last year after contracting Covid-19 in South Africa, Georgia's story is disturbing on many levels. This may not be the greatest moment in history to have a land border with Russia, but rugby-wise their progression is becoming increasingly apparent.
20-year-old Lyon native Davit Niniashvili is one of Europe's most promising young players, while referee Nika Amashukeli deservedly rises up the referee pecking order.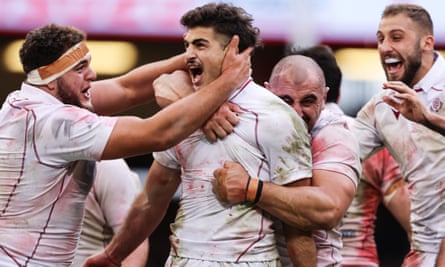 But rather than being encouraged to go further, Georgia's first two games of 2023 will be against Germany and the Netherlands in the European Rugby Championship, the tier below the Six Nations. Instead of building on their famous Wales result against opponents of similar strength, their ability to carry that momentum into the World Cup will inevitably be hampered.
If that feels unfair, it's because it is. However, imagine the following scenario. Georgia rocks at the World Cup in France and their heavy crowd angers a slow start Australia in the opening weekend at the Stade de France. With the Wallabies losing to Italy in Florence this month, the outcome can no longer be seen as entirely inevitable. Suddenly, the Lelos would be just a few wins over currently lower-ranked Fiji and Portugal from reaching their final pool game on pole. And their opponents in Nantes for this crunch match? Well, none other than her new friends Wales.
In other words, it's not impossible that Georgia could enter the last eight of the world's premier tournament unbeaten while still being cast as a second-tier rugby nation for at least seven more years. Which seems illogical at best. Maisashvili, for example, is getting tired of repeating the same arguments over and over again. "Every year we start with the Rugby Europe competition – that's a big difference. It's a joke… Rugby isn't just made up of 10 countries. We had eight injured players and a 19-year-old tighthead against Wales. For 40 minutes Wales are still without a goal." It is also clear that traditional rugby divides are rapidly shrinking.
Anyone who has watched Portugal's extremely skilled full-back Nuno Sousa Guedes against USA will be aware that talent isn't just reserved for the more established unions. And how about the way Italy attacked against the Wallabies? Of all the awards presented by World Rugby this weekend, Ange Capuozzo's Breakthrough Player award was particularly well deserved.
We haven't even mentioned proud World Cup qualifiers Chile and Uruguay or Spain, or the possibly beefed up USA trying to be competitive at their own World Cup 2031. When rugby leaders meet this week they must prioritize the many, not the few.