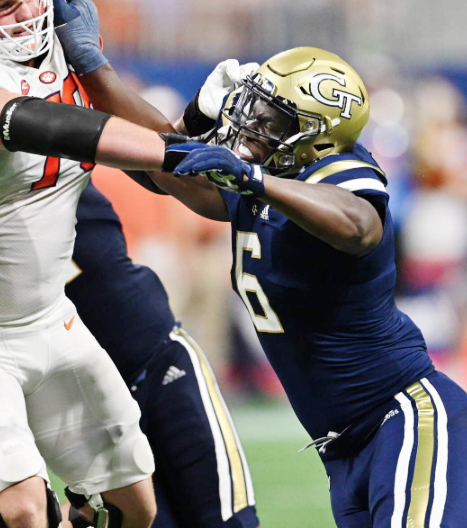 Zach Gibson (QB) – After Jeff Sims was ruled indefinitely last week, senior Akron transfer Zach Gibson stepped up to the top and stunned the Atlantic Coastal Conference by beating No. 13 North Carolina 21-17. He threw 13 for 18 and put up 174 yards, allowing just enough to drive past the Tar Heels on their own home turf at Chapel Hill. Gibson doesn't have the most experience playing with this team, but he performed when it mattered most and that's something you just can't overlook.
Malik Rutherford (WR) – The win over North Carolina gave us a different look at what this Georgia Tech offense can be. Not only Jeff Sims was out, but Tech's lead receiver Nate McCollum didn't dress for the game and was also declared out. In McCollum's absence, sophomore Malik Rutherford played six passes for 68 yards and led Tech's receiving core in the excitement against UNC. It works to throw to Rutherford and it shouldn't come as a surprise if they try again against Georgia.
Hassan Halle (RB) – Talk about a bell cow. That's what Hassan Hall is. They feed this man bull rushes like his life depended on it. He's had 115 attempts for 520 total yards this season, and the Yellow Jackets will look to increase that total when they come to Athens. Though they've distanced themselves a fair bit since the triple option days, Tech isn't afraid to look locally for answers. It will be something Georgia will have to stop if they want to win this Saturday.
Charlie Thomas (LB) – Charlie Thomas can do it with or without help. He is currently in the nation's top 10 solo tackle player at 62 a year. Not only is he reliable at getting stops, the fifth grader from Thomasville, Georgia can make a game or two. He had two sacks and two interceptions that year. He's definitely a defensive guy.
Lamiles Brooks (CB) – This defender is a back-end playmaker. He knows how to deny a pass and make life difficult for a quarterback, and the numbers show it. This year he has seven pass deflections and three interceptions while being a top-four tackle for the Yellow Jackets defense. He's a big piece for this team and will lean because of that.
Keion White (DL) – A COVID supersenior, much like Stetson Bennett and Robert Beal, the former transfer from Old Dominion is making the most of his final college ball season in his sixth year. Keion White has become a force to be reckoned with. He has 7.5 sacks this year and, like the defenders mentioned above, is also one of the leading tacklers on this team.