GEORGIA TECH VS. NORTH ALABAMA
---
THE FLATS — Looking to recover from two losses earlier this week at Tipp-Off in Fort Myers, Georgia Tech is returning to its campus to take on North Alabama of the Atlantic Sun Conference at 4 p.m. Saturday at the McCamish Pavilion.
Tech (3-2) lost his first two games of the season at Fort Myers, 68-64 to Utah on Monday and 84-60 to Marquette on Wednesday in the tip-off event. Prior to that, Tech made its first 3-0 start since the 2015-16 season, with victories over Clayton State (93-63) and Northern Illinois (68-50), beating a 59-57 last-second win at Crosstown lay enemy Georgia State.
North Alabama (4-2) continues a four-game stretch with Saturday's game. Coming off a two-game split in Santa Barbara, Calif., the Lions defeat Hampton, 75-74, and lose to UC Santa Barbara, 89-71, Tuesday and Wednesday. UNA started the road trip with a 76-68 loss at Mississippi Valley State.
The game will be streamed live on ACC Network Extra and ESPN+ available on the ESPN app. Radio will be broadcast via Legends Sports' Georgia Tech Sports Network and flagship station 680 the Fan (680 AM/93.7 FM).
Fans who attended Tech's volleyball game Saturday (1 p.m., O'Keefe Gym) vs. Florida State can watch the men's basketball game for free by presenting their volleyball game ticket.
JACKETS AT A GLANCE
Georgia Tech has eight players who have put up significant playing time in this seventh season under head coach Josh Pastner in 2021-22 to replace strikes from Michael Devoe and Jordan Usher, who collectively averaged more than 32 points per game at the Yellow Jackets campaign 12-20.
Among the top eight letter winners returning are two starters from the 2021-22 roster, both seniors in 6-3 point guard Kyle Sturdivant (7.6 ppg, 2.3 apg) and 6-11 center Rodney Howard (6.5 ppg, 5.1 rpg) as well as the backup point guard, 6-1 junior Devon Smith (5.7 ppg, 2.0 apg) and a rising trio of perimeter sophomores in 6-6 Dallan "Deebo" Coleman (6.2 ppg), 6-6 Miles Kelly (4.5 ppg) and 6-7 Jalon Moore (2.8 ppg). Junior 6-2 guard Tristan Maxwell and 6-8 junior forwards Jordan Meka return to provide additional depth.
Pastner and his staff bolstered the eight returns with two transfers in the 6-2 guard Lance Terry (14.3 ppg at Gardner-Webb) and 6-7 forward Yes' from Franklin (12.2 ppg, 7.8 rpg in South Alabama) and signed two international players – 6-8 forwards – over the summer Freds Pauls Bagatskis from Latvia and 7-foot center Kirill Martynov from Canada.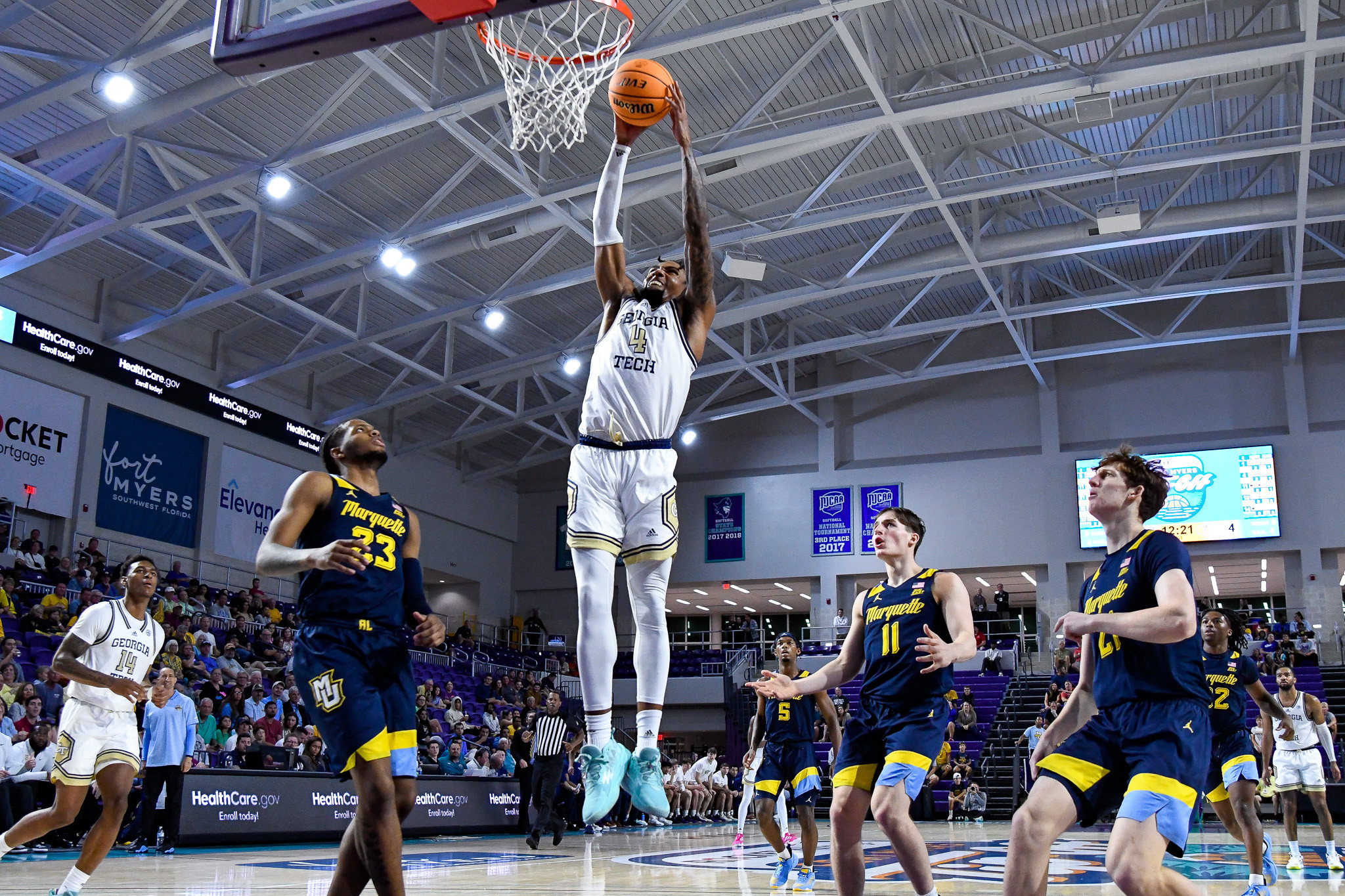 Ja'von Franklin has averaged 14 points and 11 rebounds in Tech's last three games. (Photo by Reily Rogers)
SERIES VS. NORTH ALABAMA
Georgia Tech and North Alabama meet for the first time in men's basketball.
The Yellow Jackets have previously played 19 games against current members of the Atlantic Sun Conference, most recently last season against Stetson (77-52 Tech win) and Kennesaw State (87-57 Tech win 2018-19) under head coach Josh Pastner.
BUZZ BYTES
Tech changed its starting lineup for the Marquette game for the first time this season, inserting Ja' from Franklin in place of Rodney Howard at number "5". had started the same lineup for each of the first four games – four guards around Howard. The four guards stayed the same (Lance Terry, Kyle Sturdivant, Deebo Coleman, Deivon Smith). The change gave Howard a streak of 11 straight starts dating back to last season.
Tech has used a nine-player rotation in each of its first four games. All nine scored points against Clayton State and Northern Illinois, while eight were recorded in the scoring column at Georgia State. Seven were against Utah and nine of 10 against Marquette.
Tech has shot a season-low off the floor in each of its last two games — 34.8 percent against Utah, followed by 33.8 percent against Marquette.
After hitting the free-throw line 51 times in his first two games, Tech has attempted just 43 foul shots in his last three games.
Tech lost the sales battle for the first time this season, hitting his season-high 13 while forcing 11 from Marquette. The Jackets had 13+ turnovers 15 times last season.
Tech is still only averaging 10.6 turnovers per game and has a turnover margin of plus 3.8
Tech limited his first four enemies to 16 of 76 shots from three-point range (21.1 percent), but surrendered 39.1 percent (9 of 23) to Marquette. The Jackets led the ACC and ranked fourth nationally in the three-point defense that came into play.
Ja'von Franklin has averaged 42 points (14.0 ppg), 33 rebounds (11.0 rpg), blocked eight shots and provided six assists in Tech's last three games. He had 10/7/4/2 in Tech's first two games.
Franklin has had two double-doubles in his last three games — 14 points and 11 rebounds against Northern Illinois and 17 points and 14 rebounds against Marquette. He has 10 for his career, eight of them last season in South Alabama.
Franklin reached double digits for the 25th time in his career, third to Yellow Jacket.
Miles Kelly saw his streak of back-to-back games where he had at least a three-point end after 10 games. Over the 10-game stretch, he's 19-for-45 (42.2 percent). He's only 2-for-17 in his last three games.
Kelly has hit 27 of 68 (39.7 percent) from three-point range in Tech's last 18 games, dating back to Jan. 23 against Clayton State. He was 5-to-30 in the first 17 games on the Jackets last season.
Kyle Sturdivant hit double figures with 10 points against Marquette for the second time this season and for the first time since the season opener against Clayton State (10 points in each game). He did 4/8 from the ground, 2/4 from three-point range.
Freshman Freds Pauls Bagatskis appeared in his second game of the season, playing the finals 3:03 against Marquette and scoring his first college points with a three-pointer from the left corner with a second remaining in the game.
Deivon Smith has 10 assists in his last two games and leads the Yellow Jackets with 15 in five games. He also has 21 rebounds in his last three games and is the No. 2 on the team this season at 6.4 per game.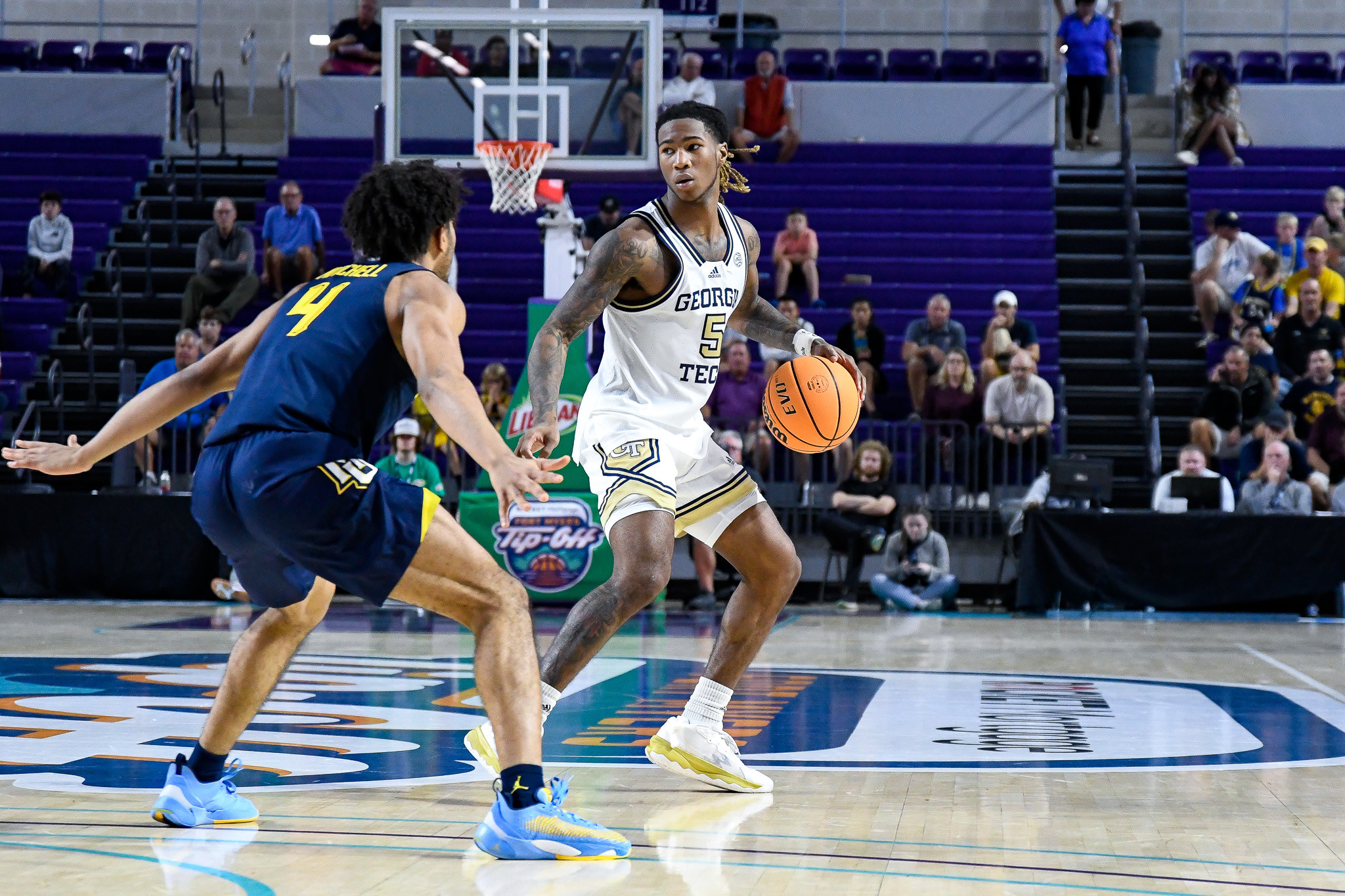 Deivon Smith leads the Yellow Jackets in assists and steals. (Photo by Reily Rogers)
---
competition initiative
In a joint effort, Georgia Tech, the Georgia Tech Foundation, Georgia Tech Athletics and the Alexander-Tharpe Fund have joined forces to accelerate scholarship funding for students and athletes with the launch of the Competitive Drive Initiative. The initiative begins with the Accelerate GT Match Program, where every new donation to AT Fund's Athletic Scholarship Fund made through December 31 is matched dollar for dollar by the Georgia Tech Foundation, up to $2.5 million . Should Accelerate GT reach its fundraising goal of $2.5 million, the gift would result in a $5 million impact to Georgia Tech Athletics. To learn more and contribute online, visit atfund.org/accelerate.
ABOUT MEN'S GEORGIA TECH BASKETBALL
The Georgia Tech men's basketball team has completed six seasons under head coach Josh Pastner, won the Atlantic Coast Conference championship in 2021 and played in an NCAA tournament for the first time in 11 years. A member of the Atlantic Coast Conference since 1979, Tech has won four ACC championships (1985, 1990, 1993, 2021), played 17 times in the NCAA tournament, and played in two Final Fours (1990, 2004). Connect with Georgia Tech Men's Basketball on social media by liking or following their Facebook page Twitter (@GTMBB) and Instagram. For more information on tech basketball, visit Ramblinwreck.com.