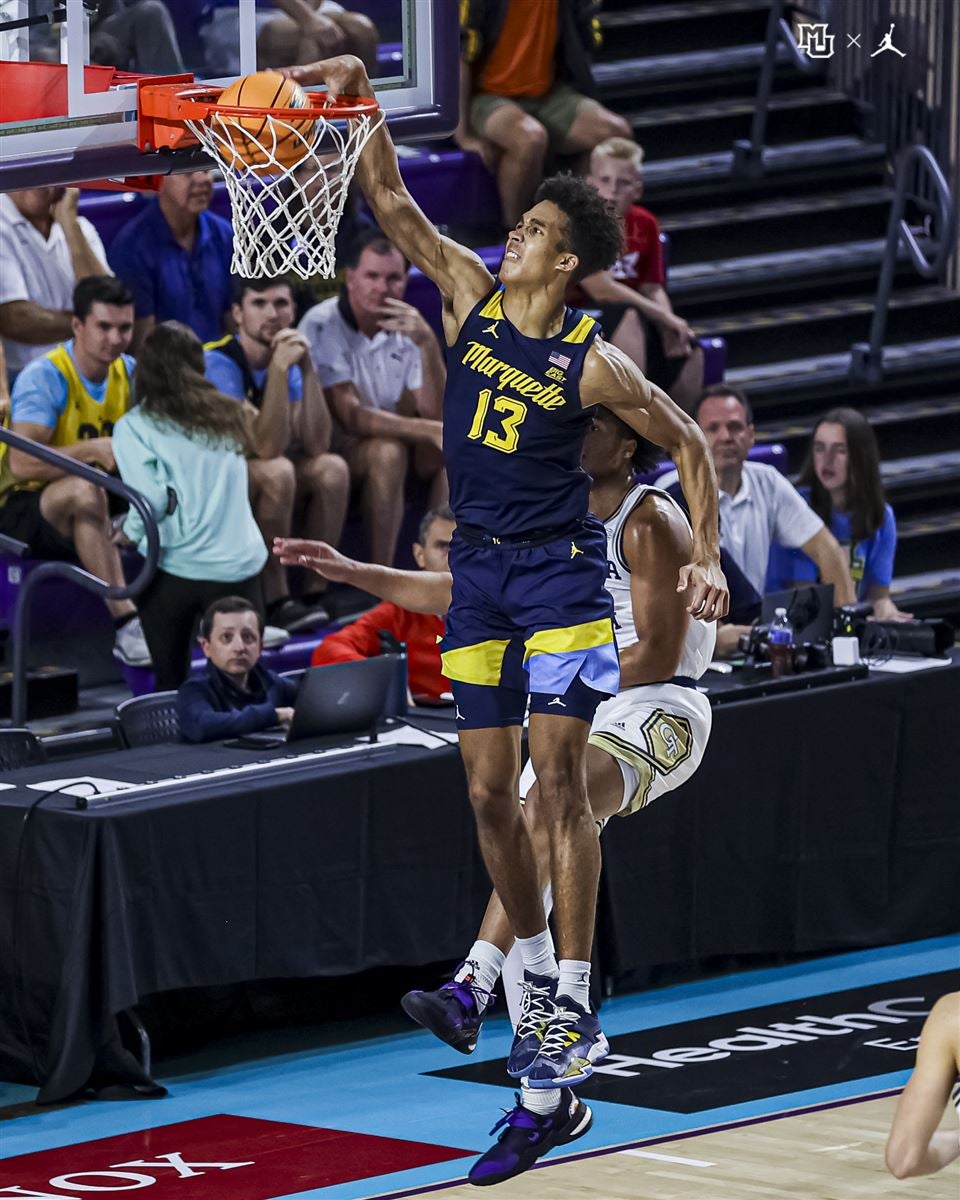 Here's Shaka Smart on the MU Radio Network after the game show with Steve True and Tony Smith.
shaka "Good job recovering from the last game…you have to turn the page quickly in a tournament environment….Loss to Miss State…we had guys crying in the dressing room…. but we talked about it… we came here to win it all… and went back to the hotel… watched a movie… we had a very good determination for them… have a good workout… be motivated… have Have a good game tonight…
Tony Smith…I thought Oso and Sean Jones were the biggest influences tonight.
Shaka: "Tonight was the first opponent to put the ball on the floor because of Sean Jones… and it won't be the last…. I told him it's a big deal that you can make them change their PG[ dribbling up…] Because of your pressure…Oso was great on the glass…I told the guys if you want to adopt a defensive identity…we're good at making them miss the first…but you have to grab the ball…we're not good at catching the ball as a team… he did a great job making sure to grab the ball…
Tony Smith…you couldn't score on Monday but tonight you were 17 to 2 in fastbreak points…you gotta be happy with that…
shaka…Well…the guys did a good job of forcing TOs to fold and score points…doubling them on points after TOs is a big deal…but there are still areas where we can continue to improve…we did a good job I thought our guys handled the zone well… as a group we need to have a group stance… we wanted to win the whole thing… we lost the two close games we were in… the other games we played did, did it wasn't that close… just getting better…
Tony Smith. What's the key for your boys to figure out… "How do we close these games?"
Shaka: "I think we need to grow up in three areas…thinking….
[#1] Understand that you need to be solid on defense… If you look back at Miss State or Purdue… there were times we sent them to the FT line because we weren't solid… they took better shots than we wanted.
[#2] mind the basketball… you can't turn the ball over in the last 5 or 6 minutes of the game… and in both games we had a charge here… a miss there… and
[# 3] In a tight game, you need to do your FTs. We didn't do enough of them on the track… to win the close game…
Homer…there were multiple players who scored…had to be 7 or 8….
shaka…" It was great to see Keeyan get a putback basket …. Lots of different guys contributed…good to see Kam shooting from the outside…I attacked him for taking shots…hey man…we want you to shoot whenever you have an open view…this is one good opportunity for us ….
Homer…Keeyan looks like he's still going to blow up when he dips…
Shaka: "Yeah… he's a bouncy guy…. If we get him to 245 pounds he will be a force out there. Now about 225lb.…. he's a bit of a latecomer to the game…we need him to understand what it takes to be successful…but he's fast…jumpy…. He's learning our style of play… he's got a bright future.