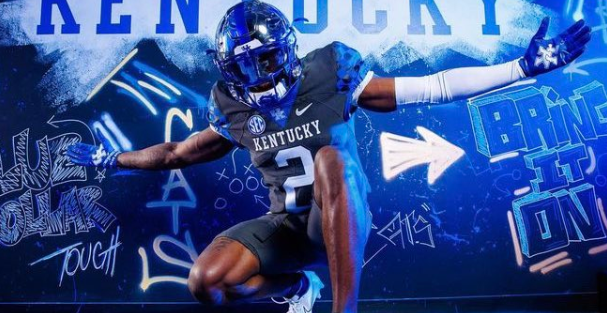 Phoenix City (Ala.) center wide receiver Carmelo English (5-foot-11, 175) is one of Kentucky's top rated remaining targets and he will be on campus for this weekend's game against Georgia. It will be his first visit since disbanding Auburn in September. Most recently, English Lexington paid an official visit in June.
Wide receiver trainer Scott Woodward has served as the primary recruiter for the Alabama native.
He also paid an official visit to Michigan. The Wolverines remain in the mix, as does Penn State. English was in Ann Arbor for Michigan's win over Penn State and claims he will return before the Dec. 21 early signing deadline.
English is rated .9304 on a scale out of 1,000 by the 247Sports Composite, ranking 24th wide receiver in the nation and 169th prospect overall. 247Sports' Cooper Petagna provided the following scouting report in January:
"Owns reasonable at 5-foot-10 and 175-pound plus. Appears to have an athletic build with an explosive lower half. Has the room to add extra weight to his body at the next level.
Demonstrates above average athletic ability at receiver position. Displays the ability to orient himself inside out, but takes most of his inside snaps as a slot. Appears to have above-average short-distance speed and direction-changing ability. Possesses a slight hip and ankle stiffness that inhibits the ability to separate, but overcompensates with his ability to play big and utilize his frame.
Demonstrates reasonable to above average game speed. Wins with physicality and explosiveness at the catch point. Displays some excellent 50/50 ball skills. Shows some power after catching but is more of a short to moderate distance runner with ball possession ability. Plays larger than his size dictates, has some advantage in his playstyle. Has the ability to add value on multiple special teams units at the next level. Projects to a multi-year starter in a Power Five program."
Tayvion Robinson is the only senior wide receiver in Kentucky's roster. The 2023 recruiter ranks 49th nationally with 13 commitments. Two of their top-rated commitments are at the wide receiver position: Nashville, Tennessee Ensworth Shamar Porter and Springfield's (Ohio) Anthony Brown. The Wildcats signed two natives from Alabama: Florence (Ala.) offensive lineman for the Mars Hill Bible School Koby Keenum and Montgomery (Ala.) cornerback of Alabama Christian Academy Avery Stuart.